When we invited in a new decade with open arms and high hopes back on January 1st, I don't think any of us guessed we'd be living through a global pandemic before we'd even made it through Q1.
Things feel really scary and uncertain right now.
It's like the whole world has been tipped on its axis.
Last night, I fell asleep at 8pm and slept right through until 8am.
I'm stress eating and online yoga-ing and trying not to read the news 24/7…
Speaking of which, here's a pic of my rescue dog, Luna, interrupting said online yoga…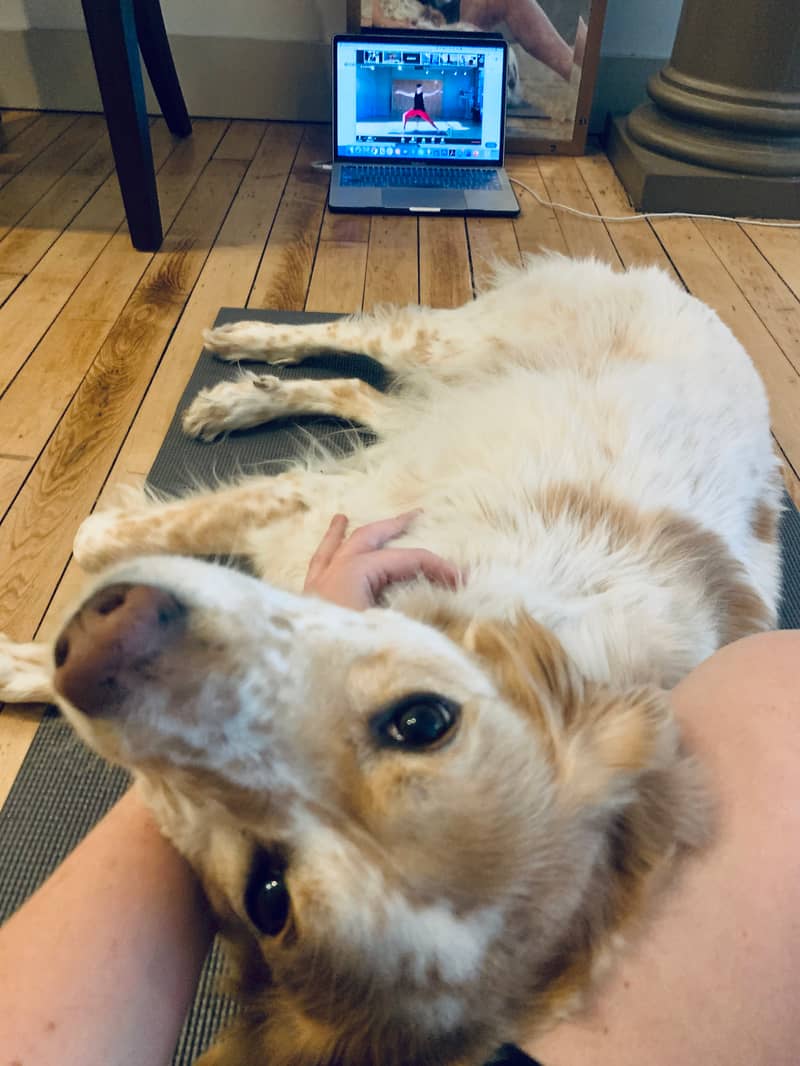 The truth is, there is no "right" way to process what's happening.
And feeling anxious or overwhelmed or unproductive is TOTALLY okay and to be expected.
Two weeks ago, I had a phone call with a major client who runs a multi-million-dollar company.
She had slipped into a state of deep anxiety about the future of her business.
She felt frustrated by the fact that her business no longer felt relevant or necessary.
She felt unnerved by the marketers still showing up in her inbox who were selling to her without any apparent regard for her feelings.
In short, she had lost her nerve and she had lost her way.
As a result, she felt like she had no other choice except to disappear from public view…
Despite the fact that, together, we've grown her email list to 15 thousand subscribers—and her social media followers into the tens of thousands.
Despite the fact that her podcast is so popular that it receives several thousand downloads every single month.
Despite the fact that companies regularly pay her up to 30 thousand dollars just for the privilege of hearing her speak.
I heard the fear in her voice, and I reminded her of what I know to be true—and I share this with you, too, because I think we all need to hear it:
There is a conscious choice that we can make in this moment:
We can choose to lead in solidarity with the people we most want to serve.
We can choose to take the time we need to understand what those people are struggling with and how we can meet that need.
We can choose to connect with those people with compassion, and in a way that makes them feel seen and heard and understood.
OR…
We can choose to disappear.
We can choose to go dark.
We can choose to fall silent.
Thankfully, my client chose not to disappear.
In just two weeks, she went from feeling helpless and confused to feeling energized, inspired, and on purpose.
We began the work of repositioning her business and her offerings so that they meet the people she serves right where they're at.
We created powerful new messaging that feels relevant to this moment, as well as fresh ways for her to stand up, show up, and step up as the leader the world needs her to be.
We built an empowered community of hundreds that is growing by the day, and where her voice and her thought leadership was heard every day last week.
I tell you this story not because I want you to compare your revenue or your subscribers or your speaker fees and feel less than.

I tell you this story because I want you to know what's possible for you, too.
I know starting your business took an incredible amount of courage.
I know you've worked really hard to get where you are today.
I know it's hard to be visible right now, but that you still want to be of service.
And I want you to know that your work still matters.
YOU still matter.
We still need your voice, your gifts, and your message.
We still need you to remember the power you have to positively impact the way other people see themselves, the world around them, and their place in it.
And while none of have all the answers, it's also true that none of us need to figure this out on our own.
There are a multitude of ways to stay connected to our communities and our loved ones while living apart.
If nothing else, remember:
However you choose to navigate this moment, do what you need to do to take care of you, but please don't disappear.
We might all going through this differently, but we're all in this together.